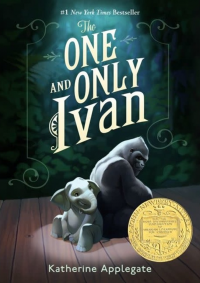 Our new kid's book club starts on September 7th. For the month of September, read The One and Only Ivan by Katherine Applegate.
Each time we meet, we will discuss new chapters of the book. To be able to discuss with the group (and avoid spoilers) please read the chapters by the date listed.
Please read hello through "old news" by September 7
Please read tricks through a visit by September 14
Please read a new beginning through a star again by September 21
Please read the ape artist through the end of the book by September 28
We hope to see you in September!  To sign up, please click here, or call us at 815-942-6880.